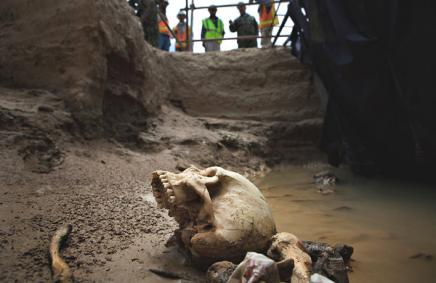 A human skull and bones at a mass grave near the Afghan town of Mazar-i-Sharif. Such graves still litter the countryside: Kuni Takahashi for The New

Top Afghans Tied to '90s Carnage, Researchers Say
By ROD NORDLAND
Published: July 22, 2012

MAZAR-I-SHARIF, Afghanistan — The atrocities of the Afghan civil war in the 1990s are still recounted in whispers here — tales of horror born out of a scorched-earth ethnic and factional conflict in which civilians and captured combatants were frequently slaughtered en masse.
Stark evidence of such killings are held in the mass graves that still litter the Afghan countryside. One such site is outside Mazar-i-Sharif, in the north. It lies only half-excavated, with bones and the remains of clothing partially obscured by water and mud from recent flooding. Experts say at least 16 victims are here, and each skull that lies exposed is uniformly punctured by a single bullet-entry hole at the back.
The powerful men accused of responsibility for these deaths and tens of thousands of others — some said to be directly at their orders, others carried out by men in their chain of command — are named in the pages of a monumental 800-page report on human rights abuses in Afghanistan from the Soviet era in the '80s to the fall of the Taliban in 2001, according to researchers and officials who helped compile the study over the past six years.
The list of names is a sort of who's who of power players in Afghanistan: former and current warlords or officials, some now in very prominent positions in the national government, as well as in insurgent factions fighting it. Many of the named men were principals in the civil war era after the Soviet Union withdrew, and they are also frequently mentioned when talk here turns to fears of violence after the end of the NATO combat mission in 2014. Already, there is growing concern about a scramble for power and resources along ethnic and tribal lines.
But the report seeking to hold them accountable is unlikely to be released anytime soon, the researchers say, accusing senior Afghan officials of effectively suppressing the work and those responsible for it. For their part, human rights activists say the country is doomed to repeat its violent past if abuses are not brought to light and prosecuted.
At the same time, some officials here — including some American diplomats — express worry that releasing the report will actually trigger new civil strife.
Titled simply, "Conflict Mapping in Afghanistan Since 1978," the study, prepared by the Afghan Independent Human Rights Commission, details the locations and details of 180 mass graves of civilians or prisoners, many of the sites secret and none of them yet excavated properly. It compiles testimony from survivors and witnesses to the mass interments, and details other war crimes as well.
Former Afghan Warlords Dispute Leaked Report Linking Them To Atrocities
By Frud Bezhan
July 25, 2012

Afghanistan's former warlords and militia leaders have slammed the leaked findings of an unpublished report that implicates hundreds of them in atrocities committed during the country's devastating civil war in the 1990s.
Titled "Conflict Mapping In Afghanistan Since 1978," the damning report accuses up to 500 members and leaders of rival ethnic and political groups, some of whom currently hold prominent government positions, of being involved in widespread human rights abuses from the communist coup and subsequent Soviet invasion of the late 1970s to the fall of the Taliban in 2001.
Details from the exhaustive 800-page report, compiled by Afghanistan's Independent Human Rights Commission, have reignited debate over the country's contentious recent history. With Afghanistan's long-warring groups having written their own versions of events shaped by their own ideologies, a single narrative of what happened and who was responsible has proved elusive.
Afghanistan's hushed-up killings
by Rahimullah Yusufzai
Thursday, July 26, 2012

Afghanistan has been a killing field from times immemorial due to foreign invasions and also the age-old tendency of its tribal population to settle deep-seated ethnic, sectarian and factional disputes by the use of force. Obviously, these past atrocities and killings haven't been documented. However, an effort to document the carnage that took place during the 1990s in the Afghan civil war involving a struggle for power between armed factions has revealed disturbing information about 180 mass graves containing the remains of those summarily executed.
Some of the information is from the still classified 800-page report compiled by the Afghan Independent Human Rights Commission and titled, "Conflict Mapping in Afghanistan Since 1978." It is a study of human rights abuses in Afghanistan from the communist Saur Revolution of April 1978 to the fall of the Taliban regime in December 2001.
The Cloak of Silence: Afghanistan's Human Rights Mappings

posted: 27-07-2012 / by: Ahmed Rashid

On 22 July, the New York Times came out with an article on human rights abuses in Afghanistan which it wrote up based on a document that has neither been published (although it is waiting for publication since many months, and Afghan groups have now demanded that it finally happens)(1) nor it apparently has been able to read in full. Our guest blogger, Ahmed Rashid(*), finds it highly unfair that it has billed it an exclusive and demands that it should not overlook previous work by human rights activists and other journalists.
[The destroyed Dar-ul-Aman palace in Kabul is the symbol of the Afghan factional wars and the human rights abuses linked to it — photo by Thomas Ruttig]
The unpublished report, prepared by the Afghan Independent Human Rights Commission (AIHRC) and researched by a team of Afghan and international human rights specialists, is called a 'Conflict Mapping in Afghanistan Since 1978'. On some 800 to 1,000 pages, it is known to painstakingly detail the numerous human rights abuses committed during the different phases of the Afghan civil and factional wars over the more than 30 past years. It was a project of the 'Action Plan for Peace, Justice and Reconciliation', that had to be imposed on President Karzai in 2005 by Western governments who, in turn, also only acted because of non-governmental pressure and their very few allies in the Afghan government, like – then – presidential advisor. The Action Plan never flew, apart from a few symbolic gestures and expired without extension in March 2009 into oblivion.
Afghanistan's Bonn Agreement One Year Later
A Catalog of Missed Opportunities
December 6, 2002

(New York) - One year after the signing of the Bonn Agreement, Afghanistan continues to face serious obstacles in protecting human rights and establishing basic security, Human Rights Watch said today.
A 12-page briefing paper, "Afghanistan's Bonn Agreement: A Catalog of Missed Opportunities," released today by Human Rights Watch, analyzes conditions in the country one year after the agreement that formalized the end of the Taliban's rule. The briefing paper outlines a number of areas in which the Afghan government and international actors have missed opportunities to improve security and protect human rights. Human Rights Watch makes several recommendations to international and Afghan actors to help realize key provisions in the agreement.
The Bonn Agreement was signed on December 5, 2001 by representatives of several different anti-Taliban factions and political groups. It established a roadmap and timetable for establishing peace and security, reconstructing the country, reestablishing some key institutions, and protecting human rights. The agreement contains provisions addressing military demobilization and integration, international peacekeeping, and human rights monitoring.
"One year later, the Bonn Agreement still embodies Afghanistan's best chance for putting an end to chronic instability, violence and a history of massive human rights abuses," said Brad Adams, executive director of the Asia Division at Human Rights Watch. "Yet many of the agreement's promises have not been fulfilled in the last year. The international community has missed several good opportunities to sideline local military rulers and to better promote security and the protection of human rights."
Afghan rights report stalled by warlord fears

Government report on 30 years of violence may not see the light of day because it names politically-connected warlords.

Ali M Latifi Last Modified: 28 Jul 2012

A recent report detailing atrocities committed over three decades of conflict in Afghanistan was supposed to provide answers to the families of one million people killed and 1.3 million left disabled by the violence, but now some fear that a focus on naming politically-connected perpetrators could prevent the document's release.
The report, "Conflict Mapping in Afghanistan Since 1978", based on six years of research by a team of 40 researchers and the Afghanistan Independent Human Rights Commission (AIHRC), has not been released to the public, apparently because it implicates prominent warlords in various abuses.
News of the report's stalling was first covered by the New York Times on July 22. It is set to be the first officially sanctioned, Afghan-produced account of human rights abuses over the past three decades.
The findings of the 800-page document including evidence of 180 mass graves, killings of civilians and prisoners, arbitrary arrests, forced disappearances, and destruction of towns and villages - quickly angered powerful men within the Afghan government. First vice president Marshal Fahim, for example, was livid that his name was among the 500 linked to the mass killings of fighters and civilians from 1992 to 1996.
Mr. President! Justice must have the final say!

Afghan civil society organizations 24 July 2012

For the first time in the past 10 years, in the final months of his presidency, President Hamid Karzai of Afghanistan has referred to the need for the accountability of the Taliban and other armed groups for their crimes in a recent speech about peace with them. He said: "We want peace, but they [the Taliban and other armed groups opposed to the Government] must know that we remember all the murders and crimes they committed and shall not forget them. If they are from this land or from other lands, they must know that they will account for them one day."
Furthermore, in the opening session of the Women Judges Conference, the President said that the justice system and judicial organisations had important duties, and encouraged the prosecutors and judges to provide justice, because the people of Afghanistan have suffered great harm in this respect. He also reminded: "I hope that the opening today shall serve as a foundation to provide for justice, to achieve which the people of Afghanistan have long been waiting… The people of Afghanistan desire that their Government shall provide for justice and security and serve them after the withdrawal of foreign troops from this country."
Correcting Details: More on the NYT Reporting the Human Rights Mapping

posted: 30-07-2012 by: Kate Clark
Afghan Analyst Network

The New York Times piece 'Top Afghans Tied to '90s Carnage, Researchers Say' 'revealed' what everyone knows and rarely says, that many of today's senior Afghan politicians have murky pasts. Talking about the war crimes of the last thirty years has proved difficult for Afghans and the international powers alike. The decision, in 2005, to put together a Conflict Mapping Report of the alleged war crimes from 1978 and the communist coup d'état of 1978 to December 2001 and the transition of power to Hamed Karzai was taken partly to help the nation discuss its troubled history. The Times article raised the possibility of those senior politicians trying to block publication of the report. Unfortunately, says AAN analyst, Kate Clark, the article was so peppered with inaccuracies that it risked giving ammunition to those who want to bury the crimes of the past together with the report. She also asks why did the Times yet again duck mention of the alleged presence of US Special Forces at one of the massacre sites. [Mass grave in Dasht-e Laili, near Shibarghan — photo courtesy of the Physicians for Human Rights website]
In a guest blog for AAN last week, Ahmed Rashid accused The New York Times of arrogance in claiming an exclusive on a subject which many other journalists and human rights activists had been risking their lives to cover for years. For me, reading through the piece, it was the inaccuracies which were glaring – and surprising because the reporter, Rod Nordland, is usually excellent.