by Dr Hakim
Ten-year-old Sakina, an Afghan street kid, had this to say, "I don't like to be in a world of war. I like to be in a world of peace."
On 27th August 2015, Sakina and Inam, with fellow Afghan street kids and the Afghan Peace Volunteers, held a mock funeral for weapons and celebrated the establishment of a green space in Kabul.
Dressed in long black coats, they broke and buried toy guns in a small spot where, over the past two years, they have been planting trees.
Sakina breaks a toy gun before burying it. Inam and other street kids await their turn.
Inam, a bright-eyed ten year old, caught the group's energetic desire to build a world without war. "I kept toy guns till about three years ago," he acknowledged with a smile.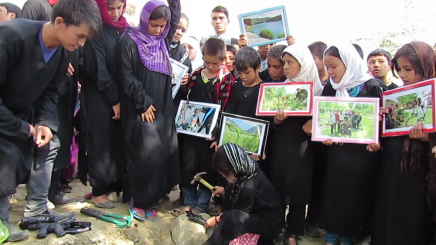 Sakina breaks a toy gun