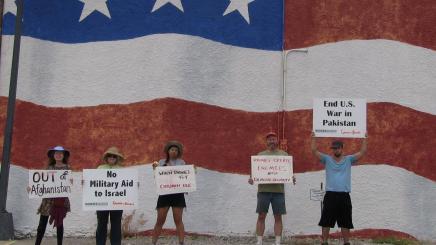 Photo-James Knight
But Buddy Bell, an activist with Illinois-based Voices for Creative Non-Violence who's leading the anti-drone march, is more pessimistic about the change.
"Someone will sit in a trailer in Des Moines and control a plane flying over Afghanistan, for example, that drops bombs on targets," Bell said.
Aaron Jorgensen-Briggs, who lives in Des Moines, said that's not a project he wants in his backyard.
"I feel that the United States drone war is a form of terrorism, plain and simple. I don't want my community taking part in that," Jorgensen-Briggs said.