From the Herald-Palladium of Benton Harbor
Tuesday, June 10, 2014 6:00 am
By RALPH HEIBUTZKI - HP Correspondent
BENTON HARBOR - For Grand Island, N.Y. resident Alice Gerard, there are many compelling reasons to oppose America's use of drone aircraft - starting with the personal side.
"In my opinion, there are two kinds of people in this world - there are my friends, and friends that I haven't met yet. I can't see killing my friends, especially the ones that I haven't met yet," Gerard said.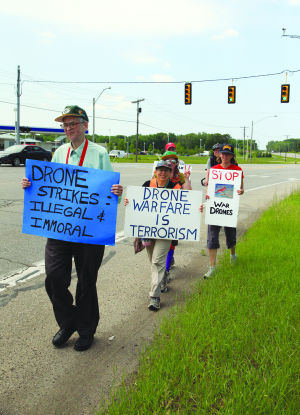 Phil Runkel, left, of Waukesha, Wis., is part of a group walking to protest the use of drones in warfare.: photo by Kristy Noack