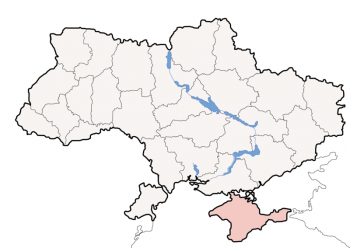 Map of Ukraine, showing the geographical position of Crimea: Image: Sven Teschke
Since Vladimir Putin's first ascendancy to the Russian presidency in 2000, the Russian state has used its armed forces against other countries twice: against Georgia, in 2008; and now against Ukraine.
In the same time period, Britain has used its military forces without UN authorisation against four countries: Sierra Leone (2000), Afghanistan (2001-present); Iraq (2003-2008, officially); and Libya (2011). (In Libya, there was a UN-approved 'no-fly zone', but NATO forces exceeded this mandate).
During these same years, France has attacked several African countries, some repeatedly, including: Côte d'Ivoire (2002, 2004, 2011); Zaire (now the Democratic Republic of Congo) (2003); Chad (2006, 2008); Libya (2011); Mali (2013); Somalia (2013); Central African Republic (2006, 2013-present).
The US has used its armed forces in a criminal fashion against a number of countries, including: Afghanistan (2001-present); Yemen (drone attacks, 2002-present); Iraq (2003-present); Pakistan (drone attacks, 2004-present); Libya (2011); Somalia (2011-present).
Some of these attacks may be classed as state terrorism, many amount to the crime of aggression.
The modern classic example of a 'trumped-up pretext' is, of course, the weapons of mass destruction alleged to exist in Iraq in 2003.
The 19th century is not over for these leaders of the free world.