August 25, 2008
By Gene Stoltzfus
Gene's Blog
Route 21 from Tomah, Wisconsin west to Sparta goes through hilly corn fields and woods. After the tiny berg of Tunnel City the fields end and Fort McCoy begins. Eighty miles northwest of Madison this Fort is one of the few major army training bases in the Northern Midwest. The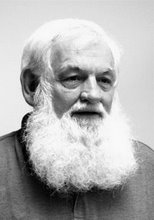 Gene Stoltzfusoops headed for Iraq and other combat zones. It also provides jobs for civilians.
On this Sunday in August with reporters and cameras looking on the base prepared for the visit of 50 peace walkers on Witness Against War pilgrimage from Chicago to St. Paul. Twelve walkers would seek to enter the base to talk with soldiers and officers about war and peace. I was one of the twelve. The 350 mile walk was organized by Chicago based Voices for Creative Nonviolence.
I joined the group at Tunnel City five miles east of the main entrance to Fort McCoy. State Route 21 was thick with security cars among army trucks, Hummers, SUVs and other vehicles, some out for a Sunday excursion and others basking in vacation days. Horn blowing and waves from people encouraged us. No harsh fists or crypto-patriotic shouts. By 11 am we reached the main entrance only to discover that it had been closed and, that persons seeking entrance must go on.