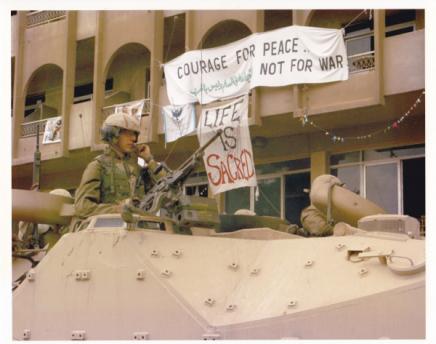 U.S. Marines occupy Baghdad, in March 2003, in front of the Al Fanar hotel that housed Voices activists throughout the Shock and Awe bombing.

March 19, 2013
Ten years ago, in March of 2003, Iraqis braced themselves for the anticipated "Shock and Awe" attacks that the U.S. was planning to launch against them. The media buildup for the attack assured Iraqis that barbarous assaults were looming. I was living in Baghdad at the time, along with other Voices in the Wilderness activists determined to remain in Iraq, come what may. We didn't want U.S. - led military and economic war to sever bonds that had grown between ourselves and Iraqis who had befriended us over the past seven years. Since 1996, we had traveled to Iraq numerous times, carrying medicines for children and families there, in open violation of the economic sanctions which directly targeted the most vulnerable people in Iraqi society, - the poor, the elderly, and the children.
I still feel haunted by children and their heartbroken mothers and fathers whom we met in Iraqi hospitals.
"I think I understand," murmured my friend Martin Thomas, a nurse from the U.K., as he sat in a pediatric ward in a Baghdad hospital in 1997, trying to comprehend the horrifying reality. "It's a death row for infants." Nearly all of the children were condemned to death, some after many days of writhing in pain on bloodstained mats, without pain relievers. Some died quickly, wasted by water-borne diseases. As the fluids ran out of their bodies, they appeared like withered, spoiled fruits. They could have lived, certainly should have lived - and laughed and danced, and run and played- but instead they were brutally and lethally punished by economic sanctions supposedly intended to punish a dictatorship over which civilians had no control.