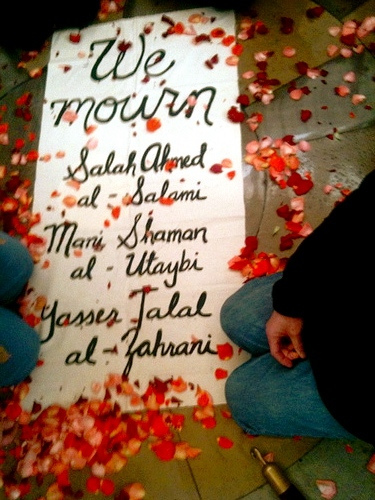 On January 21st, 2010, I was among over 40 Witness Against Torture participants who were arrested at the U.S. Capitol building in a demonstration that highlighted the Obama administration's failure to close the U.S. detention center at Guantanamo Bay within the one-year timetable promised by President Obama's executive order. Some thirty of us were arrested on the Capitol steps for wearing orange jumpsuits and unfurling three large banners that read "Broken Promises, Broken Laws, Broken Lives." The rest of the demonstrators were arrested inside the Capitol rotunda after concluding a memorial service for the three prisoners that were, as it has recently been revealed by a Camp Delta sergeant, most likely tortured to death by the CIA in 2006 at "Camp No," an alleged CIA facility located within the Guantanamo prison compound.
U.S. Capitol police arrested us and took us to a processing warehouse for approximately six hours. We were then divided into small groups and driven just around the corner to Central Cell Block, where many of the facilities are underground and hidden from the public eye. We sat handcuffed in a chilly transport van for nearly an hour in the parking garage until the first group was moved in for processing. This would be the second time within a matter of hours that our fingerprints and pictures would be added to a police database. The police were eager to find out our identities because most of us refused to give our names. Instead, we said we were there on behalf of a prisoner still being unjustly held in Guantanamo. I was there to represent Adnan Farhan Abdul Latif who was tortured in Guantanamo and has remained there for over eight years without charge or trial. The police largely ignored our political statements and moved us on to our cells.
No one expects a Hilton Hotel when going to jail, neither do I desire one when traveling. Many of us had been sleeping on the floor of a local church for the previous twelve days, and I found it quite comfortable. But the conditions at Central Cell Block were deplorable. The cells were hardly bigger than the bed frame and the grimy toilet and sink combo took up most of the floor space. The beds had no pads. They were just a slab of thin metal that made an obnoxious pop sound, similar to a gunshot, every time a prisoner so much as rolled over. It had to be close to ninety degrees in the cell and the massive overhead light, which remained on all night, was reminiscent of an interrogation lamp. The room had the look and feel of an oven. Cockroaches lined the walls and vied for space on our beds, now dripping with sweat. These irritating conditions were amplified by the fact that most of us were on the twelfth day of a liquids only fast to be, in some small way, in solidarity the men who remain on hunger strike at Guantanamo to protest the illegality of their detention.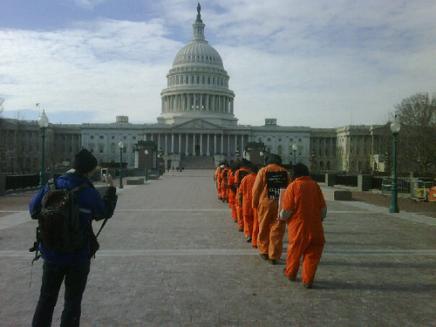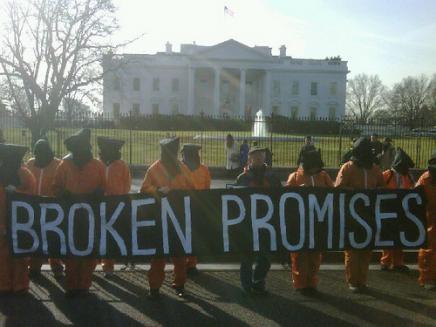 I write this piece not to linger on the injustice of our treatment, but to draw attention to the reality that this is the status quo for prison conditions in the United States. There were hundreds of others in our same situation that very night. As we were herded like cattle from our cells and moved throughout the various stages of the process, we were with scores and scores of men and women, mostly African American and Latino. We were all needlessly shackled at the hands, feet and waist. We were frequently and unnecessarily yelled at by the U.S. Marshals as we sat on the floor in overcrowded cages.
How many tourists that come to see Washington D.C.'s iconic monuments realize that there is a dungeon of a prison right below the nation's Capitol? Given our nation's track record of slavery, treatment of indigenous peoples, empire building and the expansion of the prison industrial-complex, Central Cell Block might be just as accurate a monument as George Washington's over compensating obelisk that stands ominously across the mall from the Capitol. And for a city that "gives sanctuary" to some of the world's worst governmental and corporate criminals, most of whom are privileged white males, the racial and economic ratio in the DC jail was appalling, though not unexpected.
Though our Witness Against Torture group was treated harshly and arbitrarily at times throughout our stay at Central Cell Block, we were offered some comforts that we saw denied to others. Again, this was likely because we were a group of various ages mostly from middle class, white backgrounds. (And likely because we were fasting, though that only landed us access to water once or twice throughout our thirty hour incarceration.) I doubt these small niceties are frequently given to the thousands of African American and Latino brothers and sisters that pass through the jail each week. All this harassment is before the judicial process even begins, when one is supposedly still presumed innocent. That's not to mention the disparities in prosecution and sentencing of minorities that occur in the courtrooms an then, in many cases, the harsher conditions to come in prisons where sentences must be served.
The U.S. government often brags about its flourishing democracy, impeccable human rights standards and about having the best judicial system in the world. All the while, we lecture other countries and threaten sanctions. But many who have an encounter with the inside of the justice system beg to differ with those claims. I have often had conversations with officers and judges who have said things to me like "if you were protesting like this in another county, you'd be locked away without trial and never be seen again." In some cases, this may be true, but is that the kind of medieval justice we are striving to imitate? And usually the tone of these officers and judges who say such things comes off more as a threat than any reassurance of the rights granted to U.S. citizens by the Constitution. Many of these are the same rights, and more, that are guaranteed to all people by the Universal Declaration of Human Rights and various other treaties and conventions which the U.S. is subject to following. As my friend and colleague Steve Clemens often points out, judges, police officers and prosecutors should have to spend some significant part of their training, incognito and with no special privileges, on the other side of the system before they hand out "justice" and espouse America's greatness.
I am reminded of a skit by comedian Dave Chapelle where he says something like "It seems as if there are damn near two criminal justice systems in this country." I agree, and the injustice of this stratified system also extends to the detainees being held in Guantanamo, Bagram and other offshore U.S. prisons. Many of us in this country, and it seems president Obama included, are not bold enough to stand up to our deep-seated racism at home. This being the case, how will we face our political, cultural and religious imperialism abroad?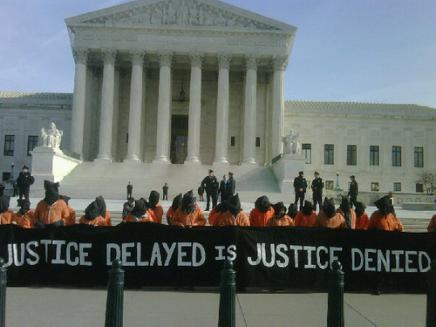 In closing, there was an unexpected way in which the connections between the injustices at Central Cell Block and Guantanamo were made clear during our incarceration. Just before we were due to head up to the courtroom, we were being re-shackled and bossed around by a group of U.S. Marshals. But the marshal who was assigned to cuff me was different in demeanor. As this young, pleasant African American woman gently placed the handcuffs on me, she said, "You'll be out of here quickly now. You never should have been arrested in the first place." She went on, "I spent two years at Guantanamo Bay with the Marines. I should have been out there protesting with you!" As for the Witness Against Torture participants, we were released within around thirty hours of arrest. But for the 188 men that remain at Guantanamo and the thousands that languish in inhumane conditions in U.S. prisons at home and abroad, when will their nightmares end?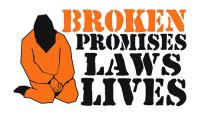 Joshua Brollier is a co-coordinator for Voices for Creative Nonviolence in Chicago. This article was written in Dane Co. Jail where Brollier and Brian Terrell recently served a 14 day sentence for an act of civil-disobedience that occurred at Ft. McCoy in August of 2008.