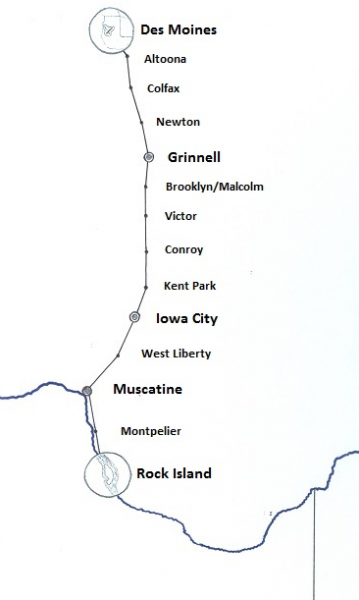 Please join the walk through Iowa to protest drone warfare. We'll be walking about 190 miles from the Rock Island Arsenal (where drone and bomb parts are made and stored) to the Iowa Air National Guard Facility at Des Moines Airport, planned site of a new drone command center.
We'll need help in locating venues for speaking events along the route, for members of the public who might like to hear from Brian Terrell, a Voices activist from Iowa, who will have just completed 6 months in prison for nonviolent civil resistance at a drone base, and from Kathy Kelly, who will have just returned from Afghanistan, where U.S. drones have tragically impacted so many lives. We will also need people who can help us find places to sleep along the route, including churches, private homes, or, for many of those walking, designated campsites, where available. Please let us know if you would like to join in for any segment of the walk or assist the walk in any way as we all strive to galvanize public opinion against drone warfare. We welcome your emails and calls!

Walk schedule:

June 10 Walk kicks off from Rock Island, IL, ends Buffalo, IA
June 11 Muscatine, IA
June 12 Pike Run, IA
June 13 Downey, IA
June 14 Iowa City, IA
June 15 Kent Park, IA
June 16 South Amana, IA
June 17 Ladora, IA
June 18 Brooklyn, IA
June 19 Grinnell, IA
June 20 Newton, IA
June 21 Mitchellville, IA
June 22-23 Des Moines, IA


Event schedule:

June 8
Center for Active Nonviolence & Peacemaking
The Canticle
841 Thirteenth Ave N
Clinton, IA
3 PM - Sponsored by Sisters of St. Francis

June 9
Humility of Mary Center
820 W Central Park Ave
Davenport, IA
2 PM - Sponsored by the Sisters of Humility

June 11
TBA
Muscatine, IA

June 14
PEACE VIGIL
Washington and Clinton Streets
4:30 PM
POTLUCK AND PUBLIC FORUM
Iowa City Public Library
123 Linn St.
Iowa City, IA
6:00 PM - Sponsored by Peace Iowa

June 19
First Presbyterian Church
Fellowship Hall
1025 5th Ave
Grinnell, IA
6-9 PM
June 20
TBA
Newton, IA
June 21
Drake University - Sussman Theatre
2875 University Ave.
Des Moines, IA
6-9 PM - Sponsored by Middle East Peace and Prosperity Alliance

June 22
Summer Solstice Gathering
Strangers and Guests Farm
Maloy, IA

June 23
PEACE RALLY
National Guard Base
3100 McKinley Ave
1:00-2:30 PM

Friends Meeting House
4211 Grand Ave.
Des Moines, IA
3 PM - Sponsored by Catholic Peace Ministry



Core Agreements for Day Walkers
Core agreements for Overnight Walkers

Frequently Asked Questions:


Are we carrying all of our gear on the walk?
No, we will have vans to transport personal baggage and tents. Tired walkers can also ride in a vehicle.

What is the climate like in Iowa in June?
It is likely to be very warm (fluctuating between 70-100 degrees F) and humid. At night it is likely to be comfortable without a jacket.

What is the range of miles we are walking each day?
We walk a minimum of 12 miles and a maximum of 17 miles each day. The only exception is June 23 when we will be walking only 5 miles.

Will someone pick me up at the airport in Chicago?
Will I be able to get back to Chicago, or should I plan to fly back from a different airport?
Airfares to Chicago being highly preferable, we'll make every effort to carpool to Rock Island, IL on June 8 and June 9 from Chicago, and back to Chicago from Des Moines on June 24. We will ask riders for a $5-$15 fuel contribution in each direction. If you need accommodations in Chicago, that may also be possible. The sooner you contact us about your tentative plans, the better we can prepare.
Is there an expected contribution? What does it cover?
We are proposing a very modest walk fee of $5 per person per day OR $25 per person per week. This is to defray some of our expenses related to support vehicles, food and water. Overnight hosts may provide dinners and breakfasts, but if not, VCNV will provide these meals. We will stop walking to eat lunch every day. Meals we provide will consist of inexpensive grocery items requiring minimal prep. Vegan/vegetarian food will be available. Walkers can suggest items to be bought on grocery runs. All food bought for personal use at a store or at a restaurant will be at the individual walker's expense. Voices will also provide water in large jugs from which bottles or cups can be filled.

Where will we sleep?
Walkers will be housed in either one large home or church or will be split up in small groups to stay in various private homes in the same area. We will also camp some nights at a campground, weather permitting. Please let us know about any allergies you have, so we can plan accordingly.