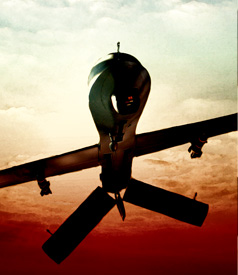 Drone Warfare Awareness and Resistance Resources
This page is a resource for education and action about the increasing and disturbing use of Unmanned Aerial Vehicles (UAVs, Drones) in military and security operations.
Below you will find a list of upcoming actions concerning drones- including protests, mock drone attacks, civil disobedience, and awareness events.
There is also a resource section linking you and your community to relevant articles and studies about the impact of drones.

~UPCOMING EVENTS~

PROTEST TO STOP THE DRONE WAR COMMAND CENTER (Horsham, PA) Saturday, April 26, 12 noon at the Horsham Air Guard Station, on that corner of Route 611/Easton Road & County Line Road. This event repeats every last Saturday of the month.
For more information, background, nonviolent discipline, directions, recommended parking, public transit, and much more, including the list of the campaign's endorsing group participants please see Brandywine Peace Community.
GEORGIA PEACE AND JUSTICE WALK (Columbus, GA to Atlanta, GA) April 26 to May 3
A roughly 100-mile trek from Fort Benning to Georgia Institute of Technology. This event will highlight the cooperation between these two institutions in drone research. Georgia Tech is at the cutting edge of research on lethal autonomous drones. Ft. Benning has a long history of involvement in U.S. imperialism and interventionism, housing the Western Hemisphere Institute for Security Cooperation (formerly the School of the Americas), which has trained death squads operating in Central and South America in past decades. The group still needs a speaker for the event's final rally at Georgia Tech. On April 1 there will be a "Who Owns the Drones?" forum at Georgia Tech. This promises to be an open-ended discussion of the role of technology in society, an assessment of what students know about the research going on at their school, and an opportunity for education.
DR. CORNEL WEST - "CONNECTING THE DOTS: RACISM, POVERTY, AND DRONES" (Syracuse, NY) Sunday, April 27 at 2 pm (place still being arranged)
There will be a walk/march and protest at the base after the talk. Currently we are discussing the theme, but want to have it be about Orders of Protection (including a citizens order of protection).
OCCUPY BEALE AFB (Linda, CA) Monday, April 28, 3:00-5:00 p.m. followed by a potluck and encampment until the morning rush-hour vigil on Tuesday, April 29, 6:00-8:00 a.m.
STOP THE DRONES!
Drones allow aggressors to destroy targets killing suspects extra-judicially including children & innocent people from a computer thousands of miles away! They can spy intimately on anyone including domestic surveillance or commit assassinations in defiance of international & US law! 50 nations now have drones of all sizes - an expanding insane proliferation.
The vigils and encampment happen every last Monday and Tuesday of the month. If the last Monday is a holiday, they happen on the last Tuesday and Wednesday.
Contact: Bay Area: Toby 510-215-5974; Chico: Cathy 530-591-3225 or the Chico Peace and Justice Center 530-893-9078; Nevada County: 530-477-7752 or 941-320-0291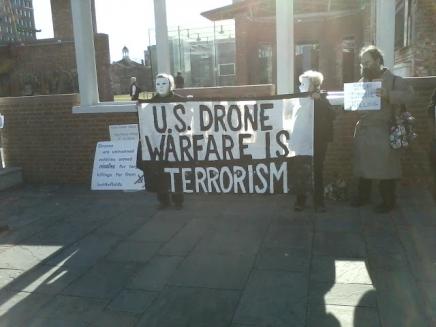 US Drone Warfare is Terrorism
MONTHLY DEATH WALK (Philadelphia, PA) Saturday, May 3, 12:00 noon at 34th & Walnut Streets
Walk to raise awareness regarding the use of DRONE Warfare in Afghanistan and Pakistan and Yemen. We walk through the streets with black robes and white masks, banners, signs, and leaflets explaining the illegal use of drones by the U.S. military. The walk is on the 1st Saturday of each month from 12 Noon to 1 p.m. Please contact Marge Van Cleef if you wish to join at or 267-763-1644.
PEACE OUTREACH: GROUND THE DRONES, END THE WARS (Syracuse, NY) Tuesday, May 6, 4:15-5:00 p.m. Hancock Airbase, Main Entrance, E. Molloy Rd. map
The ongoing Peace Outreach happens the 1st and 3rd Tuesdays of every month. Contact or call 315-472-5478.
DRONE WAR: NOT IN MY NAME (Philadelphia, PA) Friday, May 9, 4:00-5:00 p.m. at the SEPTA entrance at 15th & Markets Streets (NW corner)
There is a demonstration every 2nd Friday of the month in Center City Philadelphia to stop the Drone War Command Center at Horsham Air Guard Station. The demo alternates between SEPTA entrance at 15th & Market Streets (NW corner) and Outside Hyatt at The Bellevue Hotel (office within of PA Governor, and head of Air National Guard, Thomas Corbett), Broad & Walnut Streets.

STOP CIA KILLER DRONES AND TORTURE (Langley, VA) Saturday, May 10, at 10 a.m. at the 900 block of Dolley Madison Blvd.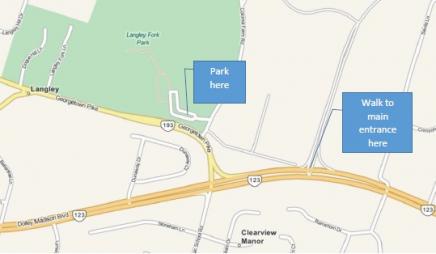 Where to Go
The CIA has been found guilty by the European Court of torture, abuse, & secretly imprisoning. US Military & CIA drones have maimed & killed thousands of people in Yemen, Somalia, Pakistan, Iraq, Libya, & Afghanistan. This year alone there have been over 333 + strikes in Afghanistan. Almost 60 Guantanamo prisoners have been cleared for release but still remain captives of the US indefinitely. Stand with us opposing CIA & US Military drones used in extrajudicial killings and US/CIA secret rendition, indefinite detention, all torture, to oppose & close the Guantanamo prison camp. Torture & US killer drone strikes are illegal, immoral, and must stop now! This protest repeats every 2nd Saturday of the month.
For more information contact Jack McHale: 703-772-0635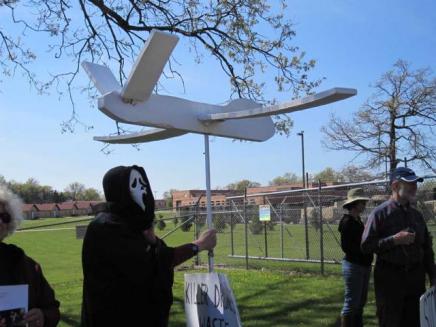 Camp Williams
MONTHLY PROTEST AGAINST NEW DRONE FACILITY (Camp Douglas, WI) Tuesday, May 27, 3:30 p.m.
Pax Christi Madison, Casa Maria Catholic Worker, and the Wisconsin Network for Peace and Justice are mobilizing vigils on the fourth Tuesday of each month at 3:30 p.m. to protest the planned $8,000,000 drone facility on Volk Field. Please try to carpool. If you're in the Madison area, we will meet in the parking lot of East Towne Mall between JC Penney and the Firestone Auto Care Store. Be there around 1:20pm so we can take as few cars as possible and be on the road by 1:30pm. If you have any questions please call or email Joy at 608-239-4327 or or Bonnie at 608-256-5088 or bblock@charter.net.
Folks from the Chicago area: VCNV will intermittently send a van up to Wisconsin to join the Camp Douglas protest. Contact us at 773-878-3815 if interested.
++++++++++++++++++++++++++++++++++++++++++++++++++++
Resources
Drones: A Cyber War a tri-fold pamphlet
Organize a Drone Awareness Action

Download flyers and watch videos of previous actions.
++++++++++++++++++++++++++++++++++++++++++++++++++++
++++++++++++++++++++++++++++++++++++++++++++++++++++
++++++++++++++++++++++++++++++++++++++++++++++++++++
THREE ARRESTED DEC 9 TRYING TO DELIVER A CITIZENS' ORDER OF PROTECTION TO THE 174TH REAPER DRONE ATTACK WING AT HANCOCK AIR BASE
This afternoon, December 9, 2013, two Yale Divinity students and a Catholic Worker were arrested as they peaceably remained at the Hancock Reaper drone base entrance on East Molloy Rd in De Witt, New York. They were attempting to deliver a citizens' Order of Protection on behalf of Afghan drone survivors. Since October 25, 2012 over 50 citizens have been arrested – and issued Court Orders of Protection — for protesting Reaper drone war crime originating at Hancock.
The DeWitt Town Court has issued such Orders at the request of the Hancock colonels. These Orders suppress the First Amendment right of all those arrested petitioning their government for redress of grievances at Hancock. The grievance is that Hancock's 174th Attack Wing pilots weaponized Reaper drones over Afghanistan killing civilians. One of those arrested, Mark Colville, declared that, "It's grotesquely ironic. These colonels got Orders of Protection against scrupulously nonviolent citizens opposing their violence. Yet, it is these colonels who deploy the killer Reaper robots terrorizing and murdering women, children and other non-combatants in Afghanistan."
Those arrested today are charged with obstruction of governmental administration, trespass and disorderly conduct: Creighton Chandler and Gregory Williams of Yale Divinity School and Mark Colville of Amistad Catholic Worker, New Haven, CT. Mark was also charged with criminal contempt for violating his October 25, 2012 Order of Protection. All three were released to their own recognizance by Judge Robert Jokl and will have to return to DeWitt court next week. ###
"Ground the Drones- the trial of the Creech 14, 2nd Edition"
This 48 page book is redacted and only slightly edited from the original courtroom transcripts of the trial of fourteen activists arrested at Creech Air Force Base in Nevada while protesting the use of robotic "unmanned aerial vehicles," drones, for extrajudicial executions in Afghanistan and Pakistan.
Includes testimony from expert witnesses- Former US Attorney General RAMSEY CLARK, Col.ANN WRIGHT, former US State Dept. diplomat, and BILL QUIGLEY, legal director of the Center for Constitutional Rights, in response to questions posed by defendants Kathy Kelly of Voices for Creative Nonviolence and Jesuit priest Steve Kelly and cross-examination by over-zealous deputy district attorneys. Kathy Kelly's opening statement and Brian Terrell's closing statement are included, as are the conflicting (and conflicted) orders of Judge William Jansen.
++++++++++++++++++++++++++++++++++++++++++++++++++++

Publication: DRONE- Resisting Sanitized Remote-Control Death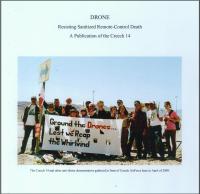 Warfare is not a video game. Educate yourself and your community about the dangers of drone warfare. Check out the new publication DRONE- Resisting Sanitized Remote-Control Death written by Dennis Duvall and members of the Creech 14.

++++++++++++++++++++++++++++++++++++++++++++++++++++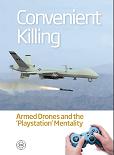 Convenient Killing: Armed Drones and the 'Playstation' Mentality by: Chris Cole (Director, FoR 2003 – 2010)
http://www.for.org.uk/files/drones-conv-killing.pdf
The purpose of this briefing is to provide information about the military use of armed drones and to encourage wider public debate on the issues that they raise. It is hoped that this will provoke and motivate others to continue research in this area, as well as to support the growing campaign to challenge the use of armed drones.
The briefing provides information on the background, human cost, production, proliferation, and case studies of effectiveness concerning drones.


++++++++++++++++++++++++++++++++++++++++++++++++++++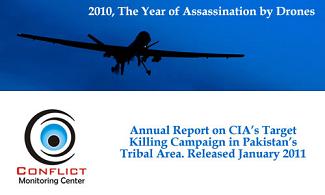 2010, The Year of Assassination by Drones: Annual Report on CIA's Target Killing Campaign in Pakistan's Tribal Area
Released in January 2011 by the Conflict Monitoring Center:
The Conflict Monitoring Center (CMC), an independent research center focusing on anti-state militancy and related activities in South Asia, has prepared an annual report(2010) on drone attacks inside Pakistani territory. The report is based on the data collected from mainstream national and international media, e.g. CNN, NY Times, Al-Jazeera, Daily Dawn, The News, Daily Times, Geo News, Daily Express, Daily Ummat and other news organizations.

++++++++++++++++++++++++++++++++++++++++++++++++++++

Nevada Desert Experience website on UAVs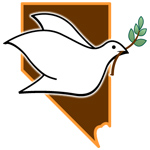 http://nevadadesertexperience.org/issues/uavs.htm
NDE has worked closely with Voices in organizing opposition to drone warfare. Members of NDE were part of the Creech 14 trial for civil resistance to drones at Creech Airforce Base. NDE's website has an extensive collection of drone related material including news articles, reports and coverage of drone resistance actions.


++++++++++++++++++++++++++++++++++++++++++++++++++++


Pakistan Body Count
http://www.pakistanbodycount.org/dattacks.php
This website provides a history and timeline of Suicide Bombing and Drone attacks in Pakistan. Data is collected from media reports, hospitals, and internet. All data is publicly available and there is no classified data. This is an effort to show the world the intensity of Suicide Bombing and Drone attacks in Pakistan.


++++++++++++++++++++++++++++++++++++++++++++++++++++

Flying Blind: U.S. Combat Drones Operate Outside International Law
by Mary Ellen O'Connell
http://www.americamagazine.org/content/article.cfm?article_id=12179&s=2
Mary O'Connell is the Robert and Marion Short Professor of Law at Notre Dame, an opponent of the CIA's drone program, and a strong proponent of international law. She is also the author of The Power and Purpose of International Law. Here is a link to a debate with Lawfare's Benjamin Wittes, in which she argues that the drone program violates international law.
Part 1 of 6
++++++++++++++++++++++++++++++++++++++++++++++++++++

Codepink: Ground the Drones
http://www.womensaynotowar.org/article.php?id=5100
Codepink's listing on drones includes fact sheets, news articles and videos, and well as information on previous and upcoming drone protests.
++++++++++++++++++++++++++++++++++++++++++++++++++++
U.S. drone strikes in Pakistan
New America Foundation analysis of drone strikes in Pakistan. Click each pin to see the details of a reported strike. The red border represents the extent of Pakistan's tribal regions in the northwest of the country.
NOTE: There are two pages, scroll to the bottom to see the most recent strikes.
NOTE: VCNV does not endorse New America Foundation's analysis of drone strike morality or effectiveness.

View U.S. drone strikes in Pakistan in a larger map
++++++++++++++++++++++++++++++++++++++++++++++++++++
War Evolves With Drones, Some Tiny as Bugs
By ELISABETH BUMILLER and THOM SHANKER
Published: June 19, 2011 The New York Times
Chang W. Lee/The New York Times

WRIGHT-PATTERSON AIR FORCE BASE, Ohio — Two miles from the cow pasture where the Wright Brothers learned to fly the first airplanes, military researchers are at work on another revolution in the air: shrinking unmanned drones, the kind that fire missiles into Pakistan and spy on insurgents in Afghanistan, to the size of insects and birds.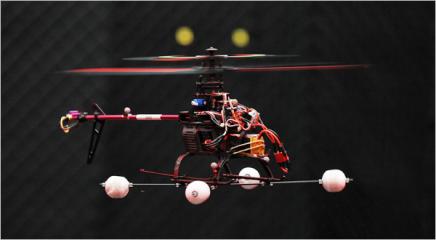 Chang W. Lee/The New York Times

++++++++++++++++++++++++++++++++++++++++++++++++++++
War Without Humans: Modern Blood Rites Revisited
by Barbara Ehrenreich
TomDispatch.com
July 12, 2011
For a book about the all-too-human "passions of war," my 1997 work Blood Rites ended on a strangely inhuman note: I suggested that, whatever distinctly human qualities war calls upon — honor, courage, solidarity, cruelty, and so forth — it might be useful to stop thinking of war in exclusively human terms. After all, certain species of ants wage war and computers can simulate "wars" that play themselves out on-screen without any human involvement.
++++++++++++++++++++++++++++++++++++++++++++++++++++
US claims of 'no civilian deaths' in Pakistan drone strikes is untrue
July 18th, 2011
by Chris Woods
The Bureau of Investigative Journalism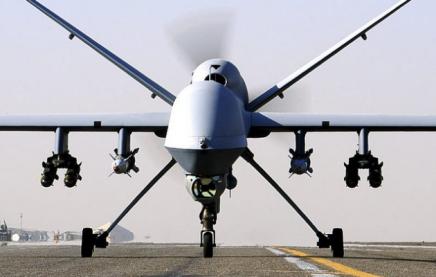 A Reaper drone on an airstrip in Kandahar. Library photo/Ministry of Defence.
Claims by President Obama's chief counter-terrorism adviser John Brennan that 'there hasn't been a single collateral [civilian] death' in Pakistan since August 2010 are found to be untrue today, following a major Bureau investigation.
+++++++++++++++++++++++++++++++++++++++++++++++++++
Other Past Actions