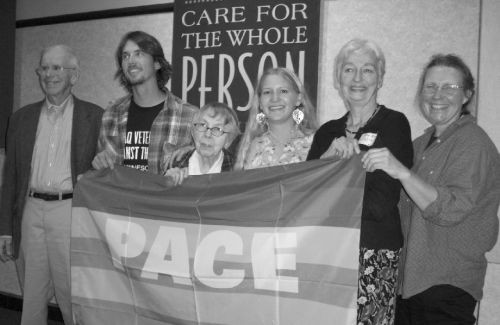 Left to right: Kinsman, Melling, Langreck, Drydyk, Enslow and Dixon
Peacemakers:
Youth:
Karen Drydyk & Paul Melling
Adult:
Cassandra Dixon
Senior:
Lillia Langreck
Lifetime Achievement: John Kinsman
and
Julie Enslow
===============================================================
Karen Drydyk – UW-Whitewater 920-222-1066
Karen is the president of the UW-Whitewater P.E.A.C.E. club, meeting weekly on campus.
Paul Melling - St. Cloud MN 320-292-7098
Paul is a member of Iraq Veterans Against the War – and had a chance to meet WNPJ members across our state this last summer as he walked as a "Witness Against War" with Voices for Creative Nonviolence.
Cassandra Dixon - Wisconsin Dells 608-445-0357
Cassandra is the WNPJ contact for Mary House, a Catholic Worker House dedicated to offering support in terms of hospitality for visitors who come to see relatives in Oxford Prison. She has also served as a CPT witness in atTuwani, Palestine – several times, accompanying children to school and standing with others to protect their homes from demolition.
Lillia Langreck - Milwaukee 414-358-2156
Sr. Lillia is active in her community, working for human rights, including immigration and human trafficking education.
The Peacemakers of the Year presentations were held October 4th in Milwaukee at the WNPJ Fall Assembly at Marquette University. For more information, contact Judy Miner in the WNPJ office at 608-250-9240 or . See www.wnpj.org