Poyinda Mohammad, 9, weaves carpets. Hadi, 12, collects used metal to sell. Other children sell plastic bags or polish boots. An estimated 60,000 children face the chaotic traffic, air pollution and worries that come with working in Kabul's streets. Perhaps a quarter of school-age children in Afghanistan work.
Some of the child laborers that I met this winter, on a three-week trip in December and January, were only 9 or 10 years old. Many children like them don't attend school because their families need money for bread, for water.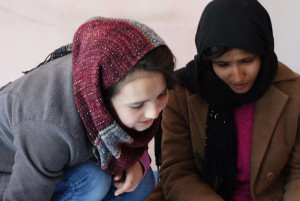 Above, Mahtab, a volunteer teacher at the Street Kids' School, helps Wahida, 15, learn to write numbers up to ten. Mahtab has recently completed high school. Wahida sells chewing gum in Kabul's streets.
But on Fridays, Poyinda, Hadi and about 90 other child laborers come to the Street Kids' School in Kabul to attend co-ed literacy classes in Dari and math as well as larger group lessons that promote nonviolence and foster creativity.
The nonviolence lessons encourage the children to think about the language they use — choosing kind words instead of insults — and the lessons open discussions about wealth inequality, hunger, the environment and gun violence.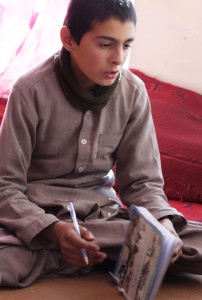 Arif, 12, bats his notebook between his hands before the class begins. He sells plastic shopping bags when not at the school.
Volunteer teachers, from Kabul's high schools and universities, lead the literacy classes with patience.
One December morning when a boy's mind wandered off, his teacher Masuma asked, "Sahil, where are you?" The boy smiled in reply before opening his notebook to begin copying the Dari words from the board.
When the lesson turned to math, all the children volunteered. One girl recited the multiplication tables so fast, so breathlessly, it was as if she is running.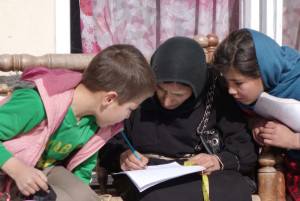 Adila's aunt Bibi records measurements for Idris, 12, so that he can receive appropriately sized pants and a winter coat. Each child at the Street Kids' School receives some winter clothing.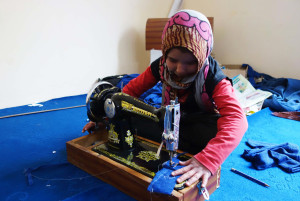 In January, Bibi was teaching a small group of girls and boys the basics of tailoring after the other classes concluded for the afternoon. Here, Sakina, age 11, learns to guide fabric through the sewing machine. Sometimes I'd catch Sakina smiling, but she often had a furrowed brow. Her mother is sick.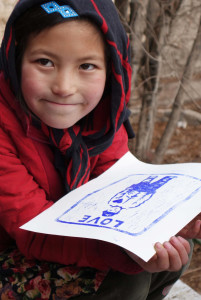 At the end of a special art workshop led by Aaron Hughes, artist and member of Iraq Veterans Against the War, Asma cradles her relief print.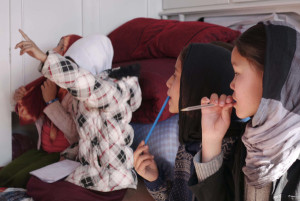 Khadija, 12, and Maryam Parisa, 10, consider a math problem on the white board
"The children are what give me energy," Hakim told me. Hakim is the international coordinator of the Borderfree Nonviolence Community Centre, which runs the school.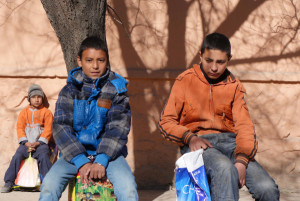 Once a month, each child at the Street Kids' School receives food provisions including a 24.5-kilo bag of rice and a tin of oil. On alternate months, the children receive beans, chickpeas, lentils, sugar, and tea. The food distribution helps offset the lost household income for the time the children are at school. Here, Sabrullah, Mehdi, and Zuhairullah sit on their rice sacks as they await help transporting the provisions home. Sabrullah, 10, is no longer working in the streets, but Mehdi, 12, is still polishing boots to earn money. Mehdi's father is sick
The children's verve and smiles were infectious.
Carolyn Coe of Orland, Maine was part of a Voices for Creative Nonviolence delegation to visit the Afghan Peace Volunteers and the Borderfree Nonviolence Community Centre in Kabul.