On the morning of distribution, the truck full of duvets got stuck in the slush, snow and ice. The wheels spinning, spitting rocks and mud, on the young men and the driver while they were trying to find a way to push the truck  out.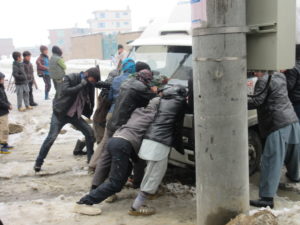 Photo by Sabia Rigby
As word spread that the duvet truck was stuck, families receiving duvets streamed down the various mountain sides like rivers rushing to meet the ocean. Men and children with wheel barrows, women and girls arms out stretched, all in need of a cover to keep them from freezing in their homes.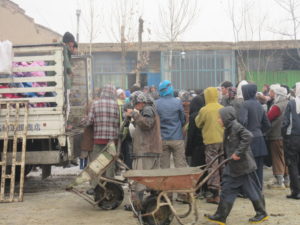 Photo by Sabia Rigby
The Afghan Peace Volunteers share with me everyday that if they really want equity, equality and a nonviolent society they can only achieve it together. Together with their families, together as a group of inter-ethnic youth, together as a community and together as a country.
While the last duvets are handed out, families that were not part of this distribution desperately beg, yell, and follow the APVs to insist on getting duvets. This part of the job the APVs have said time and again is their least favorite part. They understand that everyone needs the covers, but they were only able to make 600 this time. Next time, the families who went without will get duvets.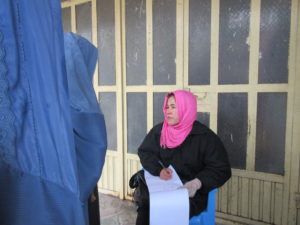 Photo by Sabia Rigby
Bismillah, Marwa, Ali, Farzana, Mariam, Nassir, Sarwa, Gulumhai, Barathan and other APVs discussed what gives them courage to face the many paralyzing issues facing them and Afghanistan.These were some of their answers:
Listening to the positive dreams of other APV members. Watching their teams grow in confidence and receive enthusiastic and supportive feedback from communities that they are able to serve, and connecting with internationals.
These worthwhile outcomes and connections are what give the Afghan Peace Volunteers strength and hope to carry on in building a healthy, nonviolent and equitable society.
"Not everything that is faced can be changed, but nothing can be changed until it is faced." James Baldwin