Above: Reem and Della watch the funeral procession.
July 14, 2018
from Beit Ummar, Palestine
Two days before the funeral of a man killed by the IDF, Reem, 17, can't sleep. She anticipates the upcoming tear gas and shooting by the soldiers that she knows will enter her town. She stays awake, listening to people's voices outside and hearing dogs barking.
Then last night, she turns the volume on the TV way down and stands in the open doorway.  "A lot of shoots," she says quietly. Reem can yell when she thinks she needs to, but usually she is soft-spoken, and she is especially quiet on this night.
Her youngest brother Abdullah, 3, sleepwalks into the kitchen and cries out as he grabs onto a cabinet door. Reem walks him back to bed and he continues sleeping. Reem and I wonder what his nightmare was about.
She tells me that she doesn't like to sleep with her sister Della because Della will often wake up pointing and shouting, "Where?! Where?!" I think about their mom telling me five years ago how the usually boisterous Della would become strangely silent during IDF raids of their house.
With Sara from next door, Reem and I do some yoga, playing the yoga game Reem saw me creating for the kids I'm teaching in Aida refugee camp. "It's like ballet," Reem says, as we come into dancer pose. Reem calls her mom to come play the game with us.
Later, Reem and I walk together to the pizza shop, which happens to be the place where we pick up some sweets for a gathering today. Reem is afraid to go by herself.
The man killed, Ramen Sabarna, was 33, the father of two young children. He used to work for the municipality of Hebron and was cleaning an area with a small bulldozer when IDF soldiers shot him. Killed a month ago, they did not release his body until last night, and today was the funeral. When I returned to Beit Ummar around 1 p.m. from an early morning trip to the South Hebron hills, IDF soldiers had closed the main entrance to Beit Ummar, so I had to take a roundabout route back to Reem's family's house. I arrived just in time for the funeral march and the IDF tear gas.
Reem sets bottles of cold water on a table outside their home for those fleeing the tear gas. Her brother Obai covers his eyes with his t-shirt as if the action could relieve the stinging in his eyes and throat. Then he comes into the kitchen and cuts up an onion. He heads back into the street with a piece of onion to witness more action between the soldiers and the Palestinian youth.
This morning before the funeral, near the Susiya settlement, Israeli volunteers with Ta'ayush stood beside highway 60 as a shepherd, Ahmed, took his sheep to graze. Some volunteers stayed with him until the animals finished grazing while three of us hitched a ride in a van up a nearby hillside. In the van was a Palestinian land owner, Saed, and sixteen kids, ages 4 to 14.
"Wasalna! Wasalna!" they chant. "We arrive! We arrive!"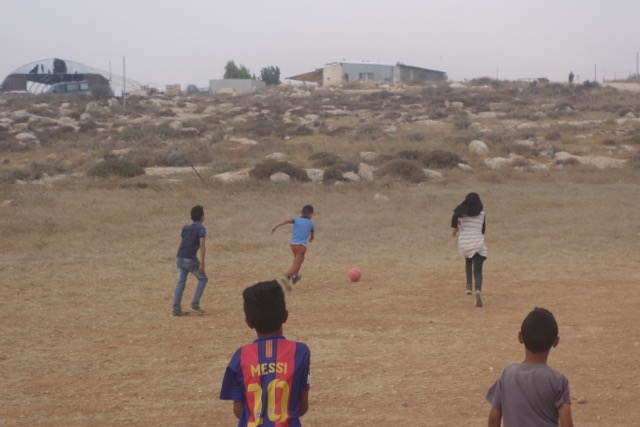 Every Saturday, for about six years, Saed's nephews and nieces have come to play football on land bordering the settlement outpost of Mitzpe Yair. They play to show claim to the land that the settlers won't let Saed use to grow barley. And over time, their game has moved closer and closer to the illegal settlement.
Settlers first established an outpost there in 1998, though by a different name. Through an earlier court case, Saed succeeded in getting settler greenhouses removed from his land. At times between 2004 and 2008, he could work on his land, but at other times he could not because of settler violence toward him. Now Saed is struggling to get the Israeli civil administration to register his ownership of the land.
Saed collected small dry plants to create a fire and brewed some sage tea while the children played. A couple kids added an extra layer of clothing as the wind gusts grew stronger.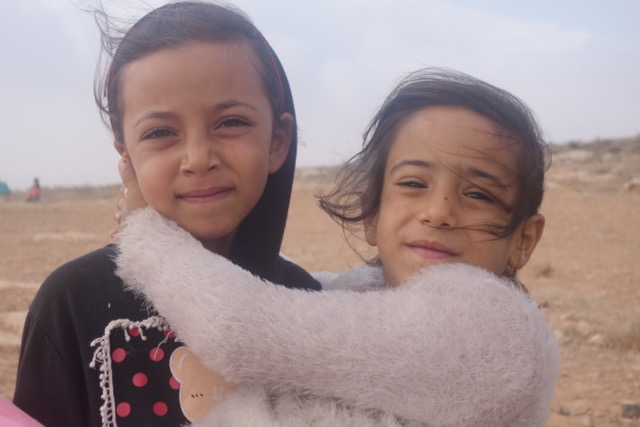 The game over and the sweetened tea drunk, we piled into the van once again, said goodbye, and headed to land beneath the Otniel settlement where members of the Shawamra family have brought their donkeys to graze in a field. Two settler security vehicles appeared as well as two army jeeps. The area military commander descended to meet us. He claimed that it will be no problem if the Shawamra family are in the field so long as they don't leave their donkeys there over night. He said the donkeys' nighttime movement activates an alarm.
One of the Ta'ayush volunteers asked me if I understood the bit of good news. I voice skepticism that the commander will in fact protect the family from the settlers. One volunteer acknowledges that even if the commander is true to his word, he could be transferred at any time. Most IDF soldiers doing their military service in the West Bank grew up in the settlements with the biases against Palestinians that come from their upbringing.
Carolyn Coe, who has volunteered on past delegations with Voices, writes from Palestine.