Chicago Group Protests Saudi Bombing of a School Bus in Yemen; 44 Children Killed, Scores Wounded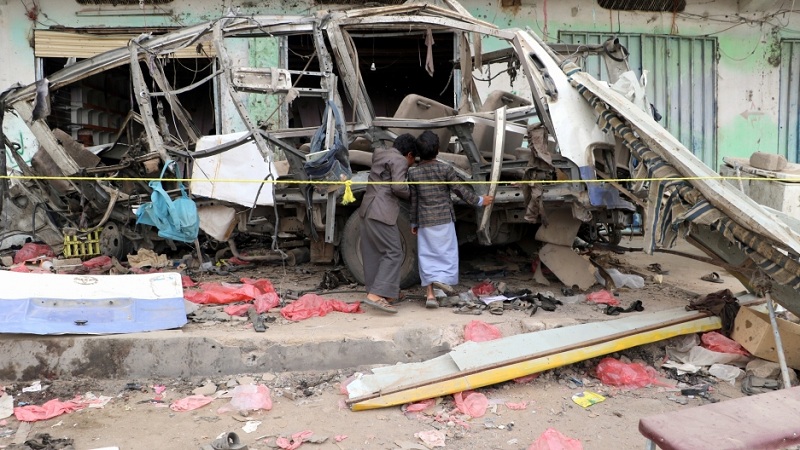 A group of Chicago area activists will gather in the Federal Building plaza, 230 S. Dearborn St., on August 30 and 31, from 9:00 a.m. to 3:00 p.m. to protest Saudi-led coalition airstrikes that have killed scores of Yemeni children. One strike, on August 9, hit a school bus carrying children to a holiday outing. 44 children, aged 6 to 11, were killed. Researchers later verified that a Saudi warplane had targeted the bus with a 500 lb. laser-guided missile manufactured by Lockheed Martin. To commemorate the children, each of whom carried a UNICEF issued blue backpack, the demonstrators will set up 44 children's backpacks and hold posters depicting the tragedy.
Eleven adults also died in that attack, and 79 people were wounded, 56 of whom were children.
The Aug. 9 attack was reportedly in retaliation for a missile fired into Saudi Arabia that killed at least one person.
CNN more recently reported another Saudi-led coalition airstrike on August 23rd. According to the Houthi-controlled Health Ministry, the strike killed 30 people, including 22 children, in a rebel-held area in northwestern Yemen. "This conflict is backed by the U.S. and the U.K.," CNN's senior correspondent Nima Elbagir has emphasized. "They are in full support of the Saudi-led activities in Yemen today."
U.S. companies such as Raytheon, General Dynamics, Boeing, and Lockheed Martin have sold billions of dollars' worth of weapons to Saudi Arabia, the United Arab Emirates and other countries in the Saudi-Emirati-led coalition which is attacking Yemen.
The U.S. military refuels Saudi and Emirati warplanes through midair exercises. And, the United States helps the Saudi coalition warmakers choose their targets.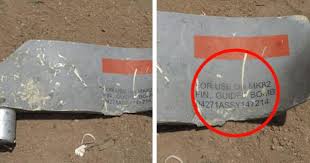 Looking for a helpful way to describe U.S. support for  Saudi-Emirati airstrikes in Yemen, journalist Samuel Oakford recently offered this comparison: "If an airstrike was a drive-by and killed someone, the U.S. provided the car, the wheels, the servicing and repair, the gun, the bullets, help with maintenance of those—and the gas."
On May 18th, Médecins Sans Frontières (MSF) issued a report about airstrikes against the Saada governorate which notes that "in the past three years, the coalition has carried out 16,749 air raids in Yemen, i.e. an average of 15 a day. Almost a third of the raids have hit non-military sites."
Yemen has the world's worst humanitarian crisis, with more than 22.2 million people in need of assistance. The United Nations warns that an estimated 18.4 million are expected to perish of war-driven starvation in Yemen by the end of the year.
Lacking access to food, clean water, medicine and fuel, over 400,000 Yemeni children are, according to Save the Children, at imminent risk of starvation. "Most of them will never see a health clinic or receive treatment," says Kevin Watkins, the organization's UK Director. Watkins says the Saudi-UAE led coalition is using economic strangulation as a weapon of war, "targeting jobs, infrastructure, food markets and the provision of basic services."
Professor Isa Blumi, an associate professor at Stockholm University and author of the book Destroying Yemen, believes the goal is to bludgeon Yemenis into complete submission and exert control over "a gold mine" of resources, including oil reserves, natural gas, minerals, and a strategic location.
Yemen has been locked in war since late 2014, when the Houthi rebels overran much of the country and seized all northern provinces, including the capital Sanaa.
The war has so far killed more than 10,000 Yemenis, mostly civilians, and displaced about 3 million others.