On the 21st and 22nd of this August, our own Kathy Kelly will join Steve Breyman, John Amidon, Maureen Beillargeon Aumand, Medea Benjamin, Kristin Christman, Lawrence Davidson, Stephen Downs, James Jennings, Jim Merkel, Ed Kinane, Nick Mottern, Rev. Felicia Parazaider, Bill Quigley, David Swanson, Ann Wright, and Chris Antal for the 22nd ANNUAL KATERI PEACE CONFERENCE:

BENDING THE ARC:
Striving for Peace and Justice in a World of Endless War
Supported on ZOOM teleconference by WORLD BEYOND WAR
Aug 21: 1-4 and 7-9 pm. Aug 22: 9:30am-4:30pm (all times given are Eastern Daylight Time (EDT) (GMT-4)).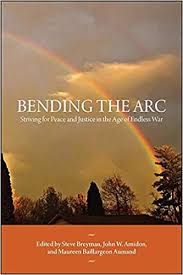 All the speakers at this ZOOM event are former speakers at the Conference, returning as co-authors of the newly released book, Bending the Arc: Striving for Peace and Justice in the Age of Endless War (regisrants for the conference will be immediately issued a discount useful in purchasing this book).
The book's, and the conference's, titles reflect Dr. Martin Luther King, Jr.'s memorable phrase, "The arc of the moral universe is long, but it bends toward justice." The annual Kateri Peace Conference's core understanding is that none of us can solve our problems by killing. The arc of history and its trajectory towards peace and justice are only made malleable by love and nonviolent action and will only be successfully achieved by our willingness to honor and practice truth, empathy, kindness and equality, as we recognize the beauty and worth of each individual. The choice is clear, either to end war and militarism or face environmental collapse. As "Bending the Arc" contributor Steve Downs asks: "How long can civilization survive, if we cannot learn to give up war and work cooperatively?"
Funds raised by World BEYOND War will be shared with Voices as well as with Upstate Drone Action, CODEPINK, Conscience International, and The Revolution of Love (ROL).
For a detailed schedule and description, and to reserve your spot, click here.